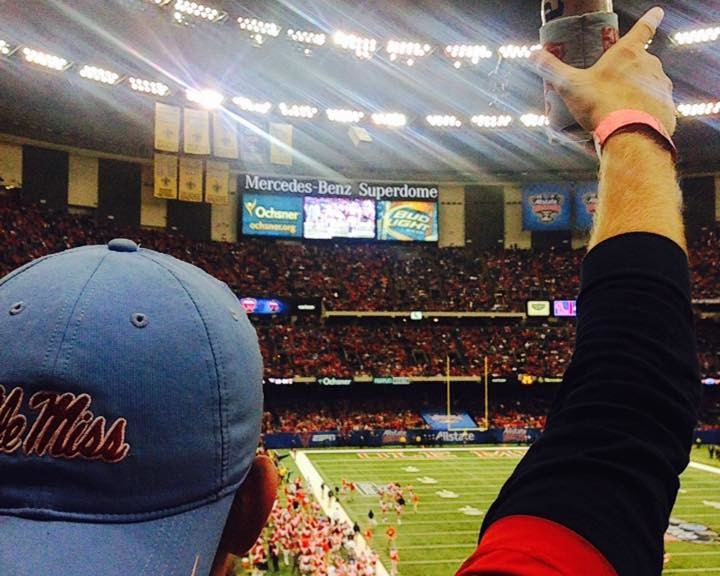 Ole Miss Wins The Sugar Bowl
Ole Miss Wins The Sugar Bowl
Ole so Sweet it is! Rebels took over the French Quarter this past week, celebrating the teams first Sugar Bowl appearance since 1970 when Archie Manning was the quarterback. New Years eve along Iberville and Royal St, Ole Miss fans crowded crowded the narrow one way street waiting in line for Acme Oyster's famous Char-Grilled Oysters chanting 'Hotty' on one side of the street and 'Toddy' on the other. Energy was in the air the entire week, and team continued it Friday night in the Superdome.
Ole Miss in the Sugar Bowl is a homecoming. I-55 southbound and I-10 from Biloxi were taken over by Rebels from all across the Magnolia State this week. Instead of a Grove tailgate, fans wandered the streets of the French Quarter and the CBD, bar hoping, and rendezvousing with Alumni of all ages. From Lucy's to Pat O's it was hard to forget that Ole Miss was playing in the Sugar Bowl this weekend!
Kelly to Tunsil for the touchdown as time expires off the clock in the first half. Ole Miss 34-6 at halftime in the 2016 All-State Sugar Bowl! You can already start to see the Sugar falling from the sky, its everywhere! The state of Mississippi is smiling and the party is just beginning because Ole Miss is about to win the Sugar Bowl and finish in the AP top 10.
I sit here Saturday morning after a wild night, proud as ever to be an Ole Miss Rebel. We all remember how tough things were just a few years back. Thank you Archie Manning for the wisdom to bring in Hugh Freeze and Ross Bjork. Both of these men and their staff's have brought Ole Miss back! And I have a feeling a National Championship is just on the horizon…
Go Rebs!